IMH Products stocks construction products and accessories, and can provide custom fabrications on a make-to-order basis, with or without galvanized coating.
Corrugated Steel Pipe Slotted Drain and Accessories
IMH is a member of the National Corrugated Steel Pipe Association and fabricates many fittings, couplers, trash grates, band angles, culvert sections, and end sections for corrugated steel pipes. We stock slotted drainin 2", 2.5", and 6" heights in both straight and trapezoidal configurations. We can also fabricate custom or
variable drain heights for unique projects.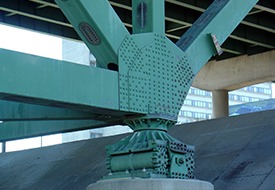 Bridge and Highway
IMH can manufacture metal components for bridges, walkways, and other custom applications. We stock a large selection of structural steel washer and plates used in some of the largest construction projects.