IMH Products stocks construction products and accessories, and can provide custom fabrications on a make-to-order basis, with or without galvanized coating. We design our construction product components for both fucntion and durability. Our on-site designers and tool & die specialists allow us to handle the entire production process from the original design until it is shipped out the door.
Corrugated Steel Pipe Slotted Drain and Accessories
IMH is a member of the National Corrugated Steel Pipe Association. We fabricate many fittings, couplers, trash grates, band angles, culvert sections, and end sections for corrugated steel pipes. We stock slotted drainin 2", 2.5", and 6" heights in both straight and trapezoidal configurations. We can also fabricate custom or
variable drain heights for unique construction products.
We are a trusted provider for stormwater drainage systems and other water infrastructure.
Bridge and Highway
IMH can manufacture metal components for bridges, walkways, and other custom applications. These components form the backbone of our nation's bridge and highway infrastructure. We stock a large selection of structural steel washer and plates used in some of the largest construction projects.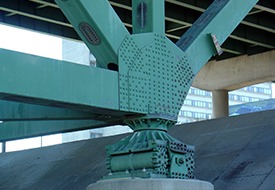 Work With IMH Products for Construction Products
The need for reliable construction products and components is critical in multiple industries. This includes pre-fabricated steel buildings, solar infrastructure, and more. These components can also be large and small, from small plates all the way to large girders and connections made of steel up to one inch thick. We are also specialists in assembly of components so they are ready to install once they are on site.
Our team is ready to work with you and answer any questions you may have when it comes to construction prodcuts. We have the experience to walk you through the entire process and with everything under one roof, we can keep costs low for our our customers. For more information on how we can work with you contact us at sales@imh.com.